Herbal Journal
I love harvesting and processing herbs for my remedies and the article below is full of useful tips and instructions to help you process your own herbs.
Enjoy! ~*~
There is nothing more satisfying than growing, storing, and using your own medicinal herbs. Using the tools nature gives us to protect our health and loved ones' feels right to me. So, I enjoy the time spent learning about herbs, gathering them, and preserving them for future use.
Gathering Herbs For Medicinal Use
Where and how you gather your herbs is extremely important. The first concern is that you are 100% certain of your plant identification before you harvest it. Using the wrong herb could be life-threatening, so make sure you know the herb well before using it.
Next, you must be careful of where you gather or grow your herbs. Your backyard herb garden is hopefully safe from all toxins, pesticides, and herbicides. But the same cannot be said when gathering in the wild. Choose natural sites, far away from traffic and dump sites. Car exhaust, herbicides sprayed to control weeds, and other pollutants can contaminate herbs grown along the roadside. Likewise, old industrial sites or dump sites are not suitable because of potential toxins.
Drying Your Medicinal Herbs
Once you've harvested your herbs from a clean site, you want to process them immediately to protect their potency until you are ready to use them. If you are not using your herbs fresh, drying them is an excellent option for preserving them. Drying or dehydrating can be done in several different ways.
Method 1: Use A Dehydrator
I prefer to use a dehydrator to dry my herbs. By using a dehydrator, I can control the drying process and optimize the drying time. A steady stream of warm, dry air quickly dries my herbs before they have a chance to degrade. Here is the process:
Preheat your dehydrator. Set the thermostat for a drying temperature of 95 to 115 degrees Fahrenheit. I prefer to use the lowest temperature, but if it is a very humid day, the higher temperature may be needed.
Clean your herbs and blot them dry with a towel to remove any surface moisture.
Remove large leaves for drying separately. Small leaves can remain on the stem, if desired.
Place the herbs on a dehydrator tray in a single layer and label the tray if you are doing more than one herb at a time.
If you are drying roots, wash them and scrub off any dirt. Pat dry and cut into small, thin pieces.
Dry the herbs for 2 to 8 hours or longer, until the leaves are crumbly, crisp, and completely dry. Larger leaves and stems usually take longer than fine small leaves, so check them periodically and remove them when dry. Allow the herbs to cool before storing.
Air Drying Medicinal Herbs
Air drying is another method of drying herbs that works well in dry climates. You need a warm, shady spot with good ventilation. You don't want them in the sun because the intense heat and sun can quickly degrade the herbs.
1.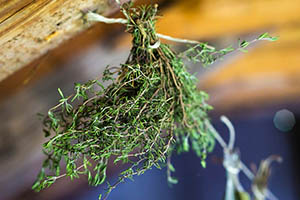 Gather the herbs into small bundles and bind them at one end with a small rubber band. Hang them upside down in an out of the way spot, until they are completely dry. 
Some people hang them in the kitchen window, but I recommend choosing a spot out of direct sunlight. Before I got my dehydrator, I would hang them on one end of my pot rack, but any warm, well-ventilated spot will work.
2.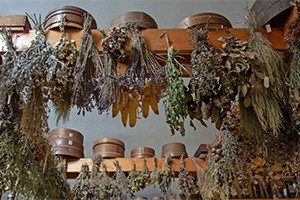 If the herbs contain seeds or tiny leaves that might release when dry; place the herb bundle in a small paper bag to catch the seeds or leaves.
3. Another possibility is to place them on an oven rack or elevated screen on a countertop. Make sure that air can flow freely under and around each sprig.
4. Air drying herbs takes longer, usually several days. Check them daily and turn them as needed to allow them to dry evenly. Make sure they are completely dry before storing.
Oven Drying And Microwave Drying
I don't recommend oven drying or microwave drying because the herbs can easily get too hot and lose their medicinal qualities. Why go to all the work to gather, dry, and store herbs, if they are no longer potent enough to be of use? If you do choose to use an oven or microwave, use the lowest possible settings and take them out as quickly as possible.
Processing And Storing Your Dried Herbs
Once your herbs are dry, it is time to sort them and prepare them for long term storage. This process is called garbling. Follow these steps to get your dried herbs ready to store:
Place your herbs into a plastic bag or glass jar for a day, before moving them to long term storage. If you see any condensation on the bag or jar, they need to dry longer.
Separate the leaves, flowers, stems, and roots, discarding unwanted parts. Each plant part has different uses; do the research on your plant to know which parts are most valuable.
As you sort, test the dryness by breaking into the larger pieces of stem and root to make sure they are completely dry. If they bend or seem pliable at all, put them back to dry longer.
Store your dried herbs in airtight containers away from heat and light. I like to use mason jars with a tight-fitting lid and store them in a dark cabinet.
For best long-term storage, I place an oxygen absorber into the jar and vacuum seal it, however the herbs will keep for a year or more without it. If you live in a very humid environment, you may want to add a silica gel pack to the jar.
Check the jars occasionally to make sure they are dry and have no mold growth. If properly stored, there should be no color change or bad smells. Throw them out if you detect any changes in quality.
Use your herbs within two years for best potency. I prefer to harvest my medicinal herbs every year to make sure I always have a potent batch available.
I'm in heaven, I'm loving this book! For Christmas this year, my hubby gave me John Gerard's The Herbal or General History of Plants, the complete 1633 edition as revised and enlarged by Thomas Johnson (2015). It's a massive book – 12.5 Tall by 9 wide (18 inches wide when open!!) and it weighs a whopping 11.5 pounds! But it's a gorgeous book.
Why would I get such an old book? I love reading the ancient plant descriptions and plant properties. Its fastinating to follow the changes in research from their beginning to modern day. Its amazing to see the original herbalists disagreeing with each other about a plant's properties.
Overall, I highly recommend the book, for anyone – whether they be herbalist or just love old books. I know technically its not an old book, but being based upon one is almost as good.
If you're interested in this book, I found it on Amazon. And I know it's expensive, but the hardbound book will not disappoint.
Happy Reading!
September 7th, I am a casualty of the war on opioids.
According to the powers that be, the opioid pain medication shouldn't be prescribed for cases like mine. They, of course, don't talk to the patients, they only make up these 'guidelines' (read: rules) and expect that everyone will fit into those tiny little boxes.  So, my pain doctors have reduced my opioid pain medication and will not prescribe more (suggested that if I want more I should doctor shop for a clinic that still prescribes opiate pain meds).
Unfortunately, I don't fit into those boxes. It's important with people who have multiple conditions, to not rock the boat so to speak. I have Meniere's disease (incurable), migraine with aura (incurable), chronic pain (not cured so far), hypothyroidism (on medication), and polycystic kidney disease (incurable). All these conditions – especially Meniere's disease, I have to be careful to not take or eat anything that triggers a flare. The medications specifically for nerve pain that I tried last year put me into a tailspin and confined me to bed for a very long time. Yet these are the medication that have been ordered for me – or I will not be treated.
I didn't choose to be a statistic. No one does. But I also didn't choose to have a government agency (state or federal it doesn't matter) tell my pain doctor how to treat me.  I'm tired of being likened to a criminal or an addict just because I'm a chronic pain patient. So, I am experimenting with different tea blends to bring about pain relief. So far, my results have been moderately successful. Now, if I had been searching for a nice 'go to sleep' tea, I'd have found that several times over!
I'm trying:
Chamomile – in all the blends I'm using dried organic chamomile. Not only is it wonderfully relaxing, but it is also a great anti-inflammatory.
Wild Lettuce – organic wild lettuce has natural opiate "like" properties, without containing opiates. Which I really like because my ultimate goal was to be off pain medication anyway. However, it does have sedative properties that make it not really ideal for daytime use. But it puts me into a good restful sleep.
California Poppy – organic California poppy, the California State Flower, is a cousin to the opiate containing poppy but does not contain opiates. California poppy is analgesic, antispasmodic and can provide relief of nerve pain – which is what I have. So far, other than making me very sleepy, it does help with moderate pain relief.
Rose Hips – Surprisingly, rose hips – which I already loved due to their blast of vitamin C and immunity-boosting powers – also helps relieve pain. I have been happily adding them to each version of the teas I make.
Valerian – although Michael hates the smell and generally walks right back out the door as soon as he smells it, Valerian is good for pain and is better known for its sedative properties. Although it doesn't taste that good to me so I'll probably add it to capsules instead of tea.
Lavender – Another surprise, lavender is a really good pain reliever because of its calming effects on the nervous system. (and it tastes good).
Rosemary – Which is a good anti-inflammatory.
I'm busy developing teas using these herbs and many more at this time to find an effective blend to relieve pain. But ultimately, I want this to be as convenient to me as taking the prescriptions are, so I also want to create capsules. I'm also very aware that this might be an ongoing odyssey to find the right fit. Bodies change and needs change, maybe I'll have to have a daytime version and a nighttime version – that seems realistic.
Today's not a good day pain wise. I woke up with some pain, then got up and took a shower and by the time I was out the pain was excruciating – and because showers always destroy my equilibrium so it's generally bathing for me – I'm also dizzy. But in the morning, when I need to get upstairs to work, feed the puppies and take them out, there's not enough time for a bath.
I found a pain scale that really is the best one I've seen, and believe me, I've seen tons of them over the last few years. Today, I'm in bed, trying to work through the pain.
Today, I'm a 7.
(This post first appeared on my personal blog at www.tobenamedlater.com)