Herbal Journals
Being a Meniere's disease patient, these tips are very welcome. Read on for more information:
Vertigo can be a life-changing condition. Many people experience vertigo occasionally but if you suffer from chronic vertigo you never know when the world around you will suddenly begin to spin. Dizziness isn't the only symptom that vertigo sufferers experience. Vertigo can also be associated with headaches, nausea, and anxiety.
Because vertigo can strike at any moment you should avoid dangerous activities like driving a car until the condition is under control. While there are many causes of vertigo, one of the most common is BPPV or benign positional paroxysmal vertigo. BPPV is caused by a displacement of calcium crystals, called canaliths, in the ear canal. When these crystals are displaced they affect your sense of balance causing you to experience vertigo.
Migraines and other inner ear problems like infections can also cause vertigo. If you experience vertigo don't despair. There are many natural remedies that can help you overcome this condition.
1. Ginkgo Biloba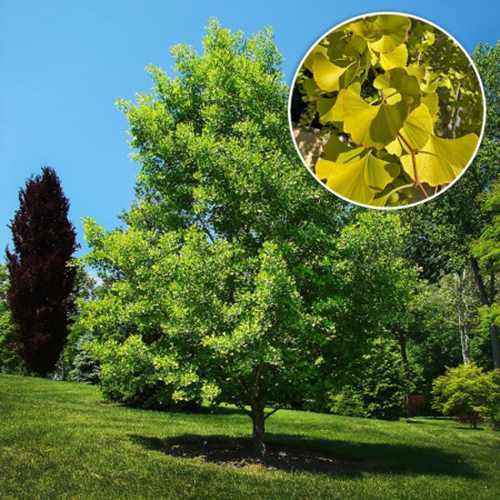 Studies have shown that Ginkgo Biloba is effective at treating vertigo. Ginkgo is associated with Chinese medicine but the tree can be found growing throughout the United States. A large tree that can grow to over one hundred feet tall it grows well in direct sun. It is a common ornamental tree in cities as it thrives in disturbed land. The leaves have a distinctive fan shape and change to a beautiful yellow in fall.
You can harvest the Ginkgo leaves when they turn yellow in the fall to make a tincture to treat your vertigo or purchase Ginkgo in capsules. You can make a tincture easily in your own home with materials you likely have already.
Ginkgo Biloba Tincture
3-4 ounces of ginkgo leaves (you can use dried leaves as well)
Vodka (or other alcohol at least 80 proof)
Mason jar
Coffee filter
Funnel
Tinted bottles for storage
Related: How Long Do Dried Herbs, Ointments, Syrups and Tinctures Last?
Steps:
First, crush the leaves to increase the surface area
Place the crushed leaves in the mason jar
Cover the leaves with vodka to a minimum of two fingers above the top of the roots. If you are using dry leaves add more vodka as the material will absorb the liquid. Do not exceed double the height of leaves or your tincture will not be as strong.
Seal the jar and leave in a cool dark place for at least two weeks
When your tincture is ready place a coffee filter inside a funnel and strain the liquid into a tinted bottle for storage.
Store in a cool dark place
Use a little as a few drops to start and no more than a teaspoon daily.
2. Blessed Thistle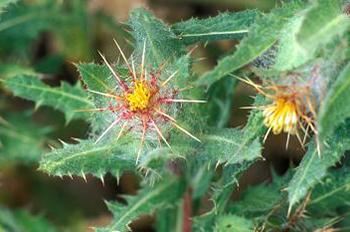 Blessed thistle, Cnicus benedictus, is a plant native to the Mediterranean region that is now commonly found growing in North America. A member of the thistle family, it can grow to two feet tall and produces yellow flowers surrounded by small spines. It has been used in traditional remedies since the middle ages to treat vertigo and other conditions.
The flowers, leaves, and stems can be harvested from June until August and used to make either a tea or a tincture. To make a tincture follow the recipe for the Ginkgo Biloba but replace the Ginkgo leaves with leaves, flowers, and stems from the blessed thistle. Use just a few drops to start and don't exceed a teaspoon daily.
3. Ginger
Ginger is one of those plants that have many uses medicinal and culinary. There is evidence that shows ginger is an effective treatment for vertigo and accompanying nausea.
Ginger is excellent when it comes to increasing the circulation of your blood. If you are feeling dizzy, chew on a little fresh ginger or drink ginger tea several times a day.
You can use ginger to make a spicy tea that will help alleviate your vertigo. Use either fresh or dry ginger rhizomes to make tea.
Ginger Tea
slice the ginger finely
place 1-2 tablespoons of sliced ginger in a cup
Pour 8 ounce of boiling water over the sliced ginger
Let steep for 5-10 minutes depending on how strong you prefer
Strain
You can sweeten the tea with honey to taste.
4. Lemon Balm
Lemon balm is believed to have healing properties that help with nervousness and vertigo. This is, in part, attributed to the health effects of the balm on the circulatory and nervous systems. The latter is important because vertigo results from the constant sending of nervous signals from the ear.
Considered one of the fastest home remedies, lemon balm is effective in treating vertigo, migraines, insomnia, nervous tension, and even depression.
You can rub its leaf and take a whiff to smell the cozy subtle lemon aroma of its leaves. Lemon balm oil helps you stay calm and relaxed because it reduces stress.
Drinking the strained tea of dried lemon balm seeped in a cup of boiling water can be an almost immediate relief for vertigo attacks.
Lemon Balm Tea
Place the cup of water in a pan and boil.
Add the lemon balm to the hot water and lower the heat to let it simmer for 10 minutes.
Pass the tea through a strainer and drink daily to help alleviate the symptoms of vertigo.
You may also inhale the balm as it simmers.
Do this for about 5 minutes to allow you to regain some balance and reduce the 'off-balance' feeling.
5. Exercise
Exercise is a common way to treat vertigo and is particularly effective in treating BPPV. While there are several different exercise regimes to choose from the most common is the Epley maneuver. A series of movements designed by Dr. Epley, this maneuver is designed to return the displaced calcium crystals to where they belong. This will then relieve the feelings of dizziness and loss of balance.
To perform the Epley maneuver simply follow these steps:
For the right ear
Begin by sitting on a bed
Turn your head 45 degrees to the right
Lie back onto a pillow, keeping your head turned to the right
With your head reclined on the pillow, stay in position for 30 seconds
Next without raising your head, turn 90 degrees to the left so you end with your head positioned 45 degrees to the left
Stay in the position for 30 seconds
Now turn your head and body another 90 degrees to the left so you are facing into the bed
Stay in the position for 30 seconds
Sit up on the left side
Do the same for the left ear.
After completing the Epley Maneuver you may experience immediate relief. However, you may find you need to repeat the maneuver a few times to get the crystals to return where they belong. Once your vertigo has subsided you can stop the exercises.
Get Plenty Of Sleep And Stay Hydrated
All of us suffer from bouts of insomnia from one time or another. As a vertigo sufferer, insomnia can exacerbate your symptoms. The longer you go without sleep the more likely you are to find yourself facing the consequences and experiencing dizziness and loss of balance.
Having a regular sleep routine can help ensure that you get enough sleep each night. Also, avoid caffeine and alcohol which can disturb your sleep patterns.
Dehydration can be another factor in triggering vertigo. While staying hydrated is always important it is even more important if you suffer from vertigo. You may have heard to drink 64 ounces of water per day but current standards now recommend that you drink between half an ounce to an ounce of water for every pound you weigh. To stay hydrated in hot weather you should make sure you are consuming on the higher-end of these guidelines. By keeping yourself hydrated you can eliminate one of the factors that can trigger bouts of vertigo.
While vertigo can be life-altering, with these simple home remedies you can begin to regain control of your life. Taking simple steps like staying hydrated and getting plenty of sleep can make a real difference. And when you are faced with an attack of vertigo, knowing exercises and herbal remedies can help you regain your equilibrium. (By RACHAEL BLASBALG)
In my yard, a beautiful weed has popped up, White Snakeroot. It got abundant white flower clusters all over and looks just gorgeous! Curious, I began to research it to see if I should harvest.
White Snakeroot, of the Asteraceae family, is native to the Eastern and Central regions of North America. Its properties include: diaphoretic, diuretic, feberfuge, stimulent, tonic. Topically it was used by Native Americans as a remedy for snake bite (hence the name).
But what I also found out, this plant is responsible for the Milk Sickness that killed countless early settlers – perhaps including Abraham Lincoln's mother! When the cows eat this, the tremetol contained in the plant gets into the milk and in high enough doses it's toxic. It causes "staggers" in cows and can kill them too.
Apparently this is not as much as issue these days because of the volumes of milk, any tremetol in the milk is diluted to a safe level.
So, for my purposes this goes into my Not Usefull Weeds Category and I won't harvest it. But I won't stop looking at how gorgeous it is!
Hello again, its time for the April 2020 Herbal Journals.
I hope you all are staying safe and healthy. This is a trying time for everyone.
Just a reminder, if you would like to submit an article, please send it to me via email.
Thank you! Kathy
I'm so excited to offer up the first Herbal Journal Publication! This will be the first of many God willing.
I hope you enjoyed it – please feel free to subscribe to the journal. And remember, if you would like to submit an article for consideration please send us an email.
Published April 28, 2016 | By admin
Essential oils as a vital part of overall good health have gotten tremendous press lately. Everywhere one reads the benefits of one or another essential oil are being touted. I can't count how many remedies and DIY solutions I've seen on Pintrest. I recently saw an article that debunks many questions and is in its entirety a very good primer on essential oils. (This post first appeared on my company blog at www.thehilltopgrp.com)
9 Dangerous Essential Oil Myths You Really Need To Stop Believing
April 25, 2016 by Sierra Bright
The dawn of the Internet age opened up a whole new and ever-expanding informational highway that has liberated many and also, unfortunately, misinformed many.
Anyone who wants to have a blog, website etc.. can have one and they can post just about anything they want to these sites. No matter how well intended these bloggers are, many are putting information out there that is incorrect, and sometimes even dangerous.
Although essential oils are natural, don't ever underestimate their power, to heal and even their power to harm. Essential oils should never be approached without caution and much understanding as to their safe application.
Here are a few essential oil facts that may help you to better see the magnitude of their strength:
It takes 150 pounds of lavender flowers to make just one pound of lavender essential oil.
It takes 256 pounds of peppermint leaves to make one pound of peppermint essential oil.
It takes thousands of pounds of roses to make 1 pound of rose essential oil.
Just one drop of peppermint oil is equal to 28 cups of peppermint tea. The bottom line, essential oils are powerful and need to be handled with respect!
The combination of growing interest in alternative therapies, including essential oils, combined with the Internet, has made it possible for some very misleading information to be published.
This article will explore just some of the many myths around essential oils that people believe but are not true. Hopefully, this will shed some light on what is safe and not safe when it comes to the therapeutic use of oils.
Myth #1: Therapeutic grade oils don't exist
The truth is that there are numerous therapeutic grade standards. It is just hard to know which one to trust. These standards are simply internal standards created by the companies who develop the oils. It is possible that these standards do not include a quality control by a third party lab.
With that said, it is critical to understand how the company defines "therapeutic grade" It could mean that the oil is pure or it could also mean something else beyond that purity. Essential oil can also be very pure but also be low quality. The reason for this is that making a judgement call on a quality oil takes years and years for experience – not just a lab and some equipment.
While there is not one independent standard for therapeutic grade and not one set body that controls this standard, it is also not true to say that therapeutic grade oils do not exist. However, where you must use extreme caution is in believing marketing jargon used by oil companies.
Dr. Robert Pappas, a leading expert in essential oils and an essential oil chemist explains:
"There seems to be a misconception that there is some kind of independent body that certifies oils as therapeutic grade, but to this date there is no such body, at least not one that is widely recognized. Does this mean there is no such thing as therapeutic grade? No, but just realize that any therapeutic grade standard out there right now is an internally derived company standard. Now this standard may be an overall great standard and perfectly acceptable to me or any other analyst or aromatherapist out there but it just needs to be noted that it's not an independent standard."
Myth #2: If you use a pure essential oil on your skin and it causes a rash or burn then it's just a detox reaction
The plain and simple truth of this one is that if you put any substance on your skin and it causes a rash or burns, it should not have been put on your skin in the first place. This is an adverse reaction, not a harmless detox reaction. Clearly a burn, rush, or any other type of abnormal issues with your skin indicate an irritation. In addition, a detox reaction occurs when something is taken away, not added. So, if you find yourself with a rash or a burn after using an essential oil on your skin it is your body saying to stop! This is one of the reasons why a patch test is recommended on a small area before using any substance on a larger area. In addition, it always recommended that you dilute an essential oil in a carrier oil before using on your skin (see below for more information on how to do a patch test).
Myth #3: Pure essential oils without additives should last forever
This is just another very ridiculous claim. Oils may seem to last for a long time but in reality, they will eventually go bad because of oxidation. Citrus oils that contain a high level of limonene – a substance that oxidizes pretty fast, destroying the fresh citrus odor. In addition, wax will form in the citrus oil over time. It is best to use the oil within one year if you can. Blue oils also such as German chamomile, blue tansy, and yarrow breakdown over time. To slow the breakdown, be sure to put blue oils in the refrigerator and keep only a small amount of airspace in the container.
Myth #4: You can ingest any essential oil without a problem
The internal use of many essential oils is not safe unless under medical supervision. A small amount of essential oil is the equivalent to about 10 – 50 cups of herbal tea. There is a certain lack of guidelines and safety precautions when it comes to ingesting essential oils.
Don't make the mistake of assuming that just because an essential oil has the same name as a familiar herb that it is safe to ingest. The reality of this statement is that some of the most dangerous essential oils bear the name of common herbs. Herbs and their essential oil counterparts are not anywhere near the same. While you can liberally apply basil to your pasta, you can not liberally ingest basil essential oil. Be very careful to jump to the conclusion that just because an oil has a familiar name of an herb you love that it is ever safe to ingest it.
Essential oils are clearly as potent as pharmaceutical drugs and since you probably would not go ingesting a whole bunch of pills without some caution, you should most definitely, give the same respect to essential oils. Again, when it come to ingesting oils, be sure that you are working with a certified and reliable practitioner that can supervise your use.
The Alliance of International Aromatherapists gives this statement on the internal use of essential oils:
"AIA does not endorse internal therapeutic use (oral, vaginal or rectal) of essential oils unless recommended by a health care practitioner trained at an appropriate clinical level. An appropriate level of training must include chemistry, anatomy, diagnostics, physiology, formulation guidelines and safety issues regarding each specific internal route (oral, vaginal or rectal)."
Myth #5: All essential oils in their diluted form are safe for children
The truth is that many oils are very dangerous to use on children five and under. Here is an excellent article on understanding how essential oils impact children. Be sure to consult a professional before using essential oils on children.
Myth #6: It is safe to use essential oils on your skin and go out in the sun immediately after
Citrus oils will always make your skin sensitive to the sun because they contain particular constituents that increase the damage caused by UV light. This increased sensitivity can cause blistering, burning and discoloration. Oils. that increase the risk of UV damage include lemon, lime, orange, grapefruit and bergamot.
Myth #7: If you don't like the way an oil smells it means that your body needs that oil
The human body has been designed to protect us from things that may harm us such as bad smelling food that may be rotten. This built-in protective mechanism (to smell odors) is critical to our survival. The opposite is also true, that we can be conditioned to like things that are not good for us such as the pleasurable and alluring smell of hot donuts or french fries. The food manufacturers have a great knack for manipulating natural flavor enhancers to make "bad" food seem good. When it comes to essential oils, you may not like the aroma initially because it is new to you and you have no previous experience with it. Give yourself time to become acquainted with oils that may seem offensive at first. However, always listen to your body if it is telling you to stay clear of something.
Myth #8: Real essential oils without additives do not freeze because there is no water in there
Like just about every other liquid, essential oils will freeze if the temperature is cold enough – water has nothing to do with keeping this from happening. In fact, many oils will freeze in your household freezer and some even in your refrigerator. Some oils are even solid at room temperature.
Myth #9: It is safe to put essential oils directly in a hot bath
If you want to use essential oil in a bath, be sure to first emulsify it. The best substance to use is sesame oil or milk. If you don't emulsify the oil it won't disperse but will float on the top of the water and enter the skin directly. When the oil combines with the heat and water in this way it can cause dermatoxicity.
Tips for Using Essential Oils
Never use undiluted essential oils on your skin. There are some oils that are generally considered safe to use on unbroken skin including lavender, chamomile, and rose, however, it is still best to dilute them. The exception to this is if you are using oils under the strict supervision of trained professional. Dilute oils with a carrier oil such as almond or jojoba. In addition, always do a patch test with the oil on a small area of skin before using it more widespread. To do a patch test mix a little bit of essential oil/carrier oil at twice the amount of concentration that you plan to use. If you are going to use a 3% mixture of oil, mix it at 6% using six drops in a teaspoon of carrier oil, or 3 drops to ½ teaspoon of carrier oil. Put a couple of drops of the concentrated oil mixture on a bandaid and place on the inside of your arm. Check for irritation after 48 hours. If the skin under the bandage becomes irritated, red, itchy, swollen or develops bumps or blisters, this is a reaction you don't want.
Never store essential oils in plastic containers. Many oils, in their undiluted form, can eat right through plastic. Even when you do dilute them for personal care use or even household cleaning, it is best to store them in a glass bottle. Be very careful with undiluted oils around wood finishes as well.
Pregnant and nursing women need to be very careful when using essential oils. These are just a few of the oils that are considered unsafe for pregnant and nursing women, cedarwood, cinnamon, sage, clove, ginger, jasmine, lemon, nutmeg, rosemary, ginger and chamomile. Check with a qualified practitioner before using any oils.
Remember: Essential oils are potent and although highly therapeutic, can be dangerous if used incorrectly.
From Natural Living Ideas, http://www.naturallivingideas.com/essential-oil-myths/ Take a moment today and sign up for their newsletter! A recommended read!