Herbaljournal.info
Being a Meniere's disease patient, these tips are very welcome. Read on for more information:
Vertigo can be a life-changing condition. Many people experience vertigo occasionally but if you suffer from chronic vertigo you never know when the world around you will suddenly begin to spin. Dizziness isn't the only symptom that vertigo sufferers experience. Vertigo can also be associated with headaches, nausea, and anxiety.
Because vertigo can strike at any moment you should avoid dangerous activities like driving a car until the condition is under control. While there are many causes of vertigo, one of the most common is BPPV or benign positional paroxysmal vertigo. BPPV is caused by a displacement of calcium crystals, called canaliths, in the ear canal. When these crystals are displaced they affect your sense of balance causing you to experience vertigo.
Migraines and other inner ear problems like infections can also cause vertigo. If you experience vertigo don't despair. There are many natural remedies that can help you overcome this condition.
1. Ginkgo Biloba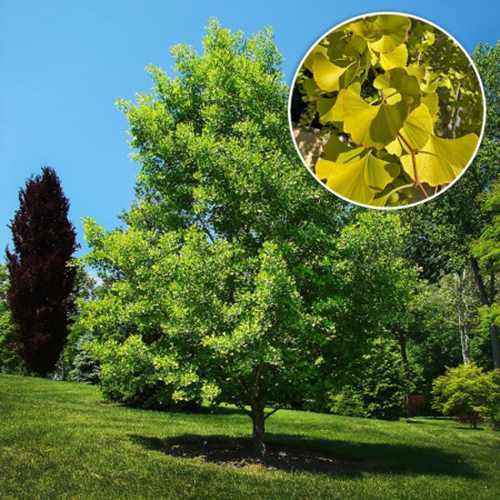 Studies have shown that Ginkgo Biloba is effective at treating vertigo. Ginkgo is associated with Chinese medicine but the tree can be found growing throughout the United States. A large tree that can grow to over one hundred feet tall it grows well in direct sun. It is a common ornamental tree in cities as it thrives in disturbed land. The leaves have a distinctive fan shape and change to a beautiful yellow in fall.
You can harvest the Ginkgo leaves when they turn yellow in the fall to make a tincture to treat your vertigo or purchase Ginkgo in capsules. You can make a tincture easily in your own home with materials you likely have already.
Ginkgo Biloba Tincture
3-4 ounces of ginkgo leaves (you can use dried leaves as well)
Vodka (or other alcohol at least 80 proof)
Mason jar
Coffee filter
Funnel
Tinted bottles for storage
Related: How Long Do Dried Herbs, Ointments, Syrups and Tinctures Last?
Steps:
First, crush the leaves to increase the surface area
Place the crushed leaves in the mason jar
Cover the leaves with vodka to a minimum of two fingers above the top of the roots. If you are using dry leaves add more vodka as the material will absorb the liquid. Do not exceed double the height of leaves or your tincture will not be as strong.
Seal the jar and leave in a cool dark place for at least two weeks
When your tincture is ready place a coffee filter inside a funnel and strain the liquid into a tinted bottle for storage.
Store in a cool dark place
Use a little as a few drops to start and no more than a teaspoon daily.
2. Blessed Thistle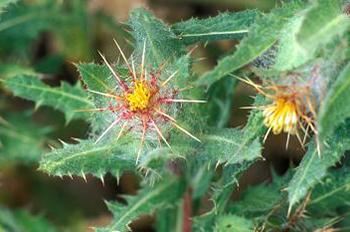 Blessed thistle, Cnicus benedictus, is a plant native to the Mediterranean region that is now commonly found growing in North America. A member of the thistle family, it can grow to two feet tall and produces yellow flowers surrounded by small spines. It has been used in traditional remedies since the middle ages to treat vertigo and other conditions.
The flowers, leaves, and stems can be harvested from June until August and used to make either a tea or a tincture. To make a tincture follow the recipe for the Ginkgo Biloba but replace the Ginkgo leaves with leaves, flowers, and stems from the blessed thistle. Use just a few drops to start and don't exceed a teaspoon daily.
3. Ginger
Ginger is one of those plants that have many uses medicinal and culinary. There is evidence that shows ginger is an effective treatment for vertigo and accompanying nausea.
Ginger is excellent when it comes to increasing the circulation of your blood. If you are feeling dizzy, chew on a little fresh ginger or drink ginger tea several times a day.
You can use ginger to make a spicy tea that will help alleviate your vertigo. Use either fresh or dry ginger rhizomes to make tea.
Ginger Tea
slice the ginger finely
place 1-2 tablespoons of sliced ginger in a cup
Pour 8 ounce of boiling water over the sliced ginger
Let steep for 5-10 minutes depending on how strong you prefer
Strain
You can sweeten the tea with honey to taste.
4. Lemon Balm
Lemon balm is believed to have healing properties that help with nervousness and vertigo. This is, in part, attributed to the health effects of the balm on the circulatory and nervous systems. The latter is important because vertigo results from the constant sending of nervous signals from the ear.
Considered one of the fastest home remedies, lemon balm is effective in treating vertigo, migraines, insomnia, nervous tension, and even depression.
You can rub its leaf and take a whiff to smell the cozy subtle lemon aroma of its leaves. Lemon balm oil helps you stay calm and relaxed because it reduces stress.
Drinking the strained tea of dried lemon balm seeped in a cup of boiling water can be an almost immediate relief for vertigo attacks.
Lemon Balm Tea
Place the cup of water in a pan and boil.
Add the lemon balm to the hot water and lower the heat to let it simmer for 10 minutes.
Pass the tea through a strainer and drink daily to help alleviate the symptoms of vertigo.
You may also inhale the balm as it simmers.
Do this for about 5 minutes to allow you to regain some balance and reduce the 'off-balance' feeling.
5. Exercise
Exercise is a common way to treat vertigo and is particularly effective in treating BPPV. While there are several different exercise regimes to choose from the most common is the Epley maneuver. A series of movements designed by Dr. Epley, this maneuver is designed to return the displaced calcium crystals to where they belong. This will then relieve the feelings of dizziness and loss of balance.
To perform the Epley maneuver simply follow these steps:
For the right ear
Begin by sitting on a bed
Turn your head 45 degrees to the right
Lie back onto a pillow, keeping your head turned to the right
With your head reclined on the pillow, stay in position for 30 seconds
Next without raising your head, turn 90 degrees to the left so you end with your head positioned 45 degrees to the left
Stay in the position for 30 seconds
Now turn your head and body another 90 degrees to the left so you are facing into the bed
Stay in the position for 30 seconds
Sit up on the left side
Do the same for the left ear.
After completing the Epley Maneuver you may experience immediate relief. However, you may find you need to repeat the maneuver a few times to get the crystals to return where they belong. Once your vertigo has subsided you can stop the exercises.
Get Plenty Of Sleep And Stay Hydrated
All of us suffer from bouts of insomnia from one time or another. As a vertigo sufferer, insomnia can exacerbate your symptoms. The longer you go without sleep the more likely you are to find yourself facing the consequences and experiencing dizziness and loss of balance.
Having a regular sleep routine can help ensure that you get enough sleep each night. Also, avoid caffeine and alcohol which can disturb your sleep patterns.
Dehydration can be another factor in triggering vertigo. While staying hydrated is always important it is even more important if you suffer from vertigo. You may have heard to drink 64 ounces of water per day but current standards now recommend that you drink between half an ounce to an ounce of water for every pound you weigh. To stay hydrated in hot weather you should make sure you are consuming on the higher-end of these guidelines. By keeping yourself hydrated you can eliminate one of the factors that can trigger bouts of vertigo.
While vertigo can be life-altering, with these simple home remedies you can begin to regain control of your life. Taking simple steps like staying hydrated and getting plenty of sleep can make a real difference. And when you are faced with an attack of vertigo, knowing exercises and herbal remedies can help you regain your equilibrium. (By RACHAEL BLASBALG)
In my yard, a beautiful weed has popped up, White Snakeroot. It got abundant white flower clusters all over and looks just gorgeous! Curious, I began to research it to see if I should harvest.
White Snakeroot, of the Asteraceae family, is native to the Eastern and Central regions of North America. Its properties include: diaphoretic, diuretic, feberfuge, stimulent, tonic. Topically it was used by Native Americans as a remedy for snake bite (hence the name).
But what I also found out, this plant is responsible for the Milk Sickness that killed countless early settlers – perhaps including Abraham Lincoln's mother! When the cows eat this, the tremetol contained in the plant gets into the milk and in high enough doses it's toxic. It causes "staggers" in cows and can kill them too.
Apparently this is not as much as issue these days because of the volumes of milk, any tremetol in the milk is diluted to a safe level.
So, for my purposes this goes into my Not Usefull Weeds Category and I won't harvest it. But I won't stop looking at how gorgeous it is!
Grey Field Speedwell (Veronica polita)
This is an amazing little herb that is part of the plantain family. It can be used for rheumatism, coughs, and as an expectorant. Its good for skin conditions and can combine freely with plantain in wound/rash healing. It is rich in vitamins, tannins and the glycoside aucubin which has anti-inflammatory, diuretic and liver protective actions.
Grey Field Speedwell is full of vitamins and tannins. The speedwell (Veronica) species are used as a diuretic, for wound healing, rheumatism, diaphoretic (sweat inducing), diuretic, antioxidant, antimicrobial.
Modern studies are delving into the vast properties of the over 200 species of the Veronica plants – particularly for more glycoside properties as well as antimicrobial and antibacterial properties, also for use in food preservation and pharmacological industries.
It has a somewhat sweet flavor and can be eaten raw, tossed in salads and cooked with other greens.
Harvest and dry for teas after the growing season or infuse in oil with plantain for a skin healing salve.
Use the young leaves and stems in salads or with other greens.
Feverfew (tanaceum parthenium)
Although there has been extensive research about the benefits of feverfew for migraines, I thought I'd share my own – real world – observations.
Feverfew is a gorgeous little shrub that is closely related to chamomile and tansy. It can grow to about 3 feet in height and readily reseeds. It is a perennial and features a white daisy-like flower with what seems (to me) a popped-out sort of rounded button center.
Nicolas Culpeper once touted feverfew as a women's herb, saying that it is a great strengthener of the womb., Culpeper wrote The English Physitian – also known as Culpeper's Complete Herbal – in 1652, and much more is known about this herb now.
Feverfew is mainly known for its headache reducing and migraine prevention properties. Taken daily it can lessen the frequency of migraines, as well as taken at the first sign of the migraine can help to stop it. For tension headaches I have found a tea/infusion made of feverfew with chamomile to be very useful. Tincture:10-15 drops daily for long-term prevention; Tincture: 5-10 drops with chamomile tincture (20 drops) is my go-to for headaches and for when a migraine hits. For an infusion: 1 part dried chamomile, ½ part dried feverfew, infuse (steep) with freshly boiled water, and cover the mug, for 10-15 minutes. Sweeten with honey, or sugar or stevia as desired. Drink up to three times daily for tension headaches.
An infusion of feverfew with willow bark may help reduce fevers and you can use feverfew in conjunction with St. Johns wort and comfrey in an infusion to help ease inflamed joints.
Creating a tincture using the folk method is extremely easy but I think the following article is highly beneficial. This is from The Herbal Academy: (https://theherbalacademy.com/how-to-make-a-tincture/)
Cautions: Avoid feverfew if you are taking blood thinners, or if you are pregnant. Use caution when eating fresh leaves as they have been known to cause mouth sores.
How to Make a Tincture
1. Remove the fresh or dried herbs off of the stalks. If using freshly dug roots, wash and scrub them of dirt.
2. Chop fresh herbs and grind dried herbs to increase the surface area for the maceration. Place herbs into a clean, dry jar with a wide mouth.
3. Pour high proof alcohol (vodka or brandy) over the herbs until the alcohol level is an inch above the top of the herbs. Dry herbs may absorb the liquid, so check and add alcohol as needed.
4. Cover tightly with a lid and place the jar in a dark cupboard and allow to soak or macerate for 4-6 weeks.
5. During this time period, give the jar a shake every 2-3 days. Keep an eye on the alcohol level to ensure all your herbs are still covered.
6. Once macerating is complete, layer cheesecloth a few times over top of a clean bowl and secure with rubber band if possible.
7. Strain the mixture through the cheesecloth and with clean hands, gather the cloth up and squeeze strongly so every bit of possible liquid is drained from the herbs.
8. Allow material to settle overnight and strain again, or decant, through a smaller filter such as filter paper or a thin wire screen.
9. Use a funnel to transfer into labeled, amber bottles and store out of the light.
An alcohol based tincture will last many years. Using a standard sized dropper bottle, adult dosages are typically 30 to 60 drops in a little water, taken three times a day. However, drop size can be variable depending on the viscosity of the preparation and the dropper size, so if you prefer more precision in your dosage you can consult a reputable publication like Medical Herbalism by David Hoffman.
Learning how to make a tincture is just one of the first things beginners learn in herbalism. If you are interested in studying herbalism, start your journey in the Online Introductory Herbal Course or the Online Intermediate Herbal Course. Learn more about herbs and how to use them as medicine and as food!
REFERENCES
Cech, Richo. (2000) Making Plant Medicine. Williams, OR: Horizon Herbs
Gladstar, Rosemary. (2012) Medicinal Herbs: A Beginners Guide. North Adams, MA: Storey Publishing.
Herbal Academy of New England. (2013) Herbal First Aid, Herbal Academy of New England's Medicine Making Handbook
Another great find in my yard – Yellow Wood Sorrell (Oxalis stricta). Also known as Yellow Wood Sorrell or Creeping Yellow Sorrell, or Sour Grass
This is another weed that is edible and good for you. Yellow wood sorrel has a slightly sour-lemony taste that promotes saliva production which can be good for the gums and good for your digestive tract. The sour taste promotes bile production which is necessary for healthy functioning digestion.  It is a mild fever reducer and an awesome thirst quencher. Every aerial part is edible, leaves, flowers, and pods – which resemble tiny okra!
It is rich in Vitamin C and was used historically to treat scurvy, fevers, mouth sores, nausea, sore throats, and urinary infections. Its actions include febrifuge, diuretic, astringent, catalytic.
It's a cheerful plant (in my opinion) and plays well with other useful weeds such as purple dead nettle and chickweed.
You can add yellow wood sorrel to soups, sauces, eat it raw in salads, or dry it and use it as a slightly lemon tasting seasoning. Cooled or chilled yellow wood sorrel tea sweetened with honey is a delight.
One caution: Yellow Wood Sorrel produces Oxalic acid which can cause problems when taken in large quantities as it inhibits calcium absorption, and if taken in moderate amounts it shouldn't cause problems for people suffering from gout, rheumatism, or kidney stones.
Those little pods also perform a spectacular show by ejecting the seeds when ripe in what is called explosive dehiscence (made me laugh!).
Harvest by simply pulling it out by the roots, then cut off the roots, wash and enjoy.
Wood sorrel tea
Ingredients
1 tablespoon fresh wood sorrel leaves, flowers, and/or seed pods
1 cup water
Instructions
Boil water, pour over fresh wood sorrel, and let steep for up to a half-hour. Strain, sweeten to taste, and enjoy! Recipe by https://www.wildedible.com/wild-food-guide/wood-sorrel#wood-sorrel-tea