Herbal Information
I've been busy in my kitchen lately. I'm harvesting wonderful goodies such as feverfew, salvias, speedwells, sorrels, lavenders, mint, lemon balm, plantain, and more. All hanging in my little corner to dry for later use – except those I used right away for chickweed, plantain, and lavender salve.
I am loving how wonderful my kitchen is smelling! We even got some gorgeous roses, but I didn't get a picture before they faded. 🙁
With the herbs that I'm drying, I'll be able to make my migraine tea, skin healing salves, cough medicine/expectorant, digestive tonics, and more. Just these little herbs. Here are some of my favorites:
Speedwells (veronica): Use the young and small leaves in salads, the older leaves for skin healing salves and in tinctures.
Sorrels: In my yard, we have yellow wood sorrel (oxalis stricta), and it's such a fun herb. Sometimes while I'm picking, I eat it raw – and love the lemony taste. I developed a tea with it I call "Lemon-not-Lemon Tea. And since normal lemon tends to antagonize my vertigo conditions, it's a wonderful alternative for me.
Woodland Sage (salvia nemorosa L.): I love these purple salvias – they are long-blooming and gorgeous. Although it's not the most medicinally useful of the sages (like salvia officianalis) it can still be useful. The leaves are anti-inflammatory and are helpful for reducing hot flashes, and as a gargle for sore throats and expectorant for coughs.
Lavender (Lavandula angustifolia) is an amazingly beneficial herb and highly effective aromatic. Who doesn't feel an instant air of calmness when they smell it? Because of its calming and pain-relieving qualities, Lavender is vital to my pain management. But it's also very good for the skin so it's wonderful in salves and lotions. I'm also a big fan of chamomile and lavender tea for when I can't sleep.
I've always loved that many herbal remedies can be found from items in the pantry. Below is a great article about this very subject! One remedy not touched upon is one of my own personal favorites: Celery Seed! You can read my post on Celery seed here, and read my celery seed monograph here (PDF format).
10 Remedies You Can Find In Your Kitchen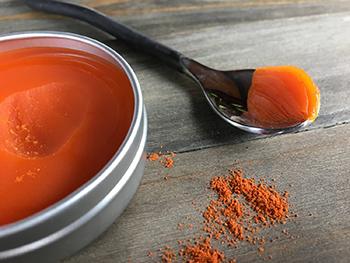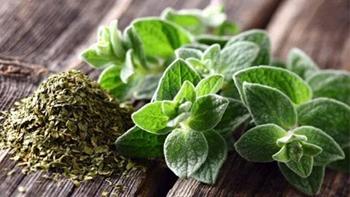 When you begin to explore natural remedies you quickly realize that many herbs and spices that we use in our everyday cooking can also be medicinal. The idea of food as medicine is not a new one.
My pantry is stocked with herbs and spices that I use to enhance flavor in my meals but also to brew medicinal teas, add to oils, and use to make salves. Here are ten remedies you probably already have in your kitchen and may not even know it.
1. Apple Cider Vinegar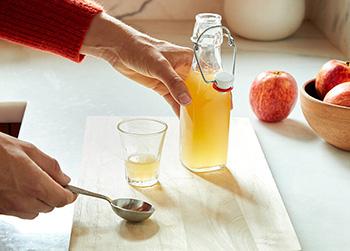 Apple Cider Vinegar is found in most kitchens. It's commonly used in salad dressings and for other culinary purposes. However, it has many other uses as well.
Use it as a sore throat gargle, as a facial toner to soothe skin irritations, or to wash your hair. It has been shown to help control blood sugar in diabetics and can help reduce your risk of cancer. Always make sure to dilute your apple cider vinegar because it is highly acidic.
ACV Sore Throat Gargle
Dilute 1 – 2 TBSP of vinegar in an 8-ounce glass of water.
Take a swig and gargle for 30 seconds. Spit it out. Rinse your mouth.
Repeat every 2-3 hours.
2. Garlic
Garlic is a staple found in just about every home. The foundation of many flavor combinations garlic has many health benefits. People have been using garlic medicinally since ancient times. It helps boost your immune system and prevent colds, lower cholesterol, and lower blood pressure.
There are many ways to incorporate the healing power of garlic. Try something new, like infusing garlic in honey. The garlic will ferment adding beneficial probiotics to the mixture. It is great for colds and the flu.
Honey Fermented Garlic
Place garlic in a glass jar and cover it with honey.
Make sure you leave plenty of headspace at the top of the jar to accommodate the additional liquid and bubbles that will be created in the process. This will help prevent explosions of honey in your kitchen.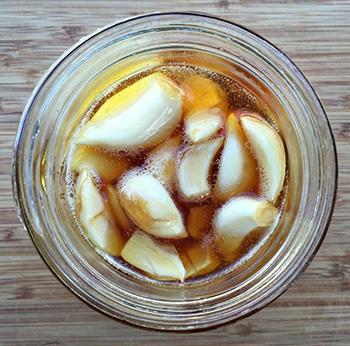 You want to flip the jar daily to ensure the garlic stays coated in honey. This will help prevent mold from forming.
After several days you should see bubbles begin to form. This is a sign fermentation has begun. Burp the jar daily to release the gasses. Over time the activity in the jar will decrease and you can burp less frequently.
When the bubbling stops the fermentation is complete. This can take several months but the end result is worth it.
For best results, make sure you use organic garlic and raw honey. You can use the garlic for cooking, add the honey to tea, or simply eat it by the spoonful if you like.
3. Honey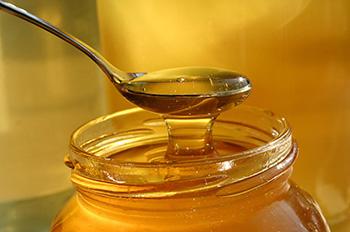 A delicious and natural sweetener, honey has many health benefits. It is high in antioxidants, which can help lower blood pressure and lower cholesterol.
Honey can be used to help heal wounds and burns and is good for sore throats and coughs in children.
For wound or burn care simply apply honey topically. Studies have shown it is an effective antibiotic and provides good results. A teaspoon of honey can help quiet a hacking cough.
4. Ginger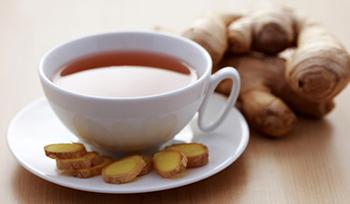 Ginger is often used in Asian cooking and holiday baking but ginger can do more than spice up your meal. There are many reasons to have more ginger in your life.
Ginger is anti-inflammatory and high in antioxidants. It helps calm nausea, lowers blood sugar and cholesterol, can ease arthritis symptoms, and can help contribute to weight loss.
There are many delicious ways to add this medicinal spice to your daily routine but an easy and delicious way is to make ginger tea.
Ginger Tea
Slice about one thumb's length of ginger root. Boil water. Add the ginger root to the boiling water and boil for 5-10 minutes to make a decoction. Strain out the ginger and add honey to taste.
5. Lemon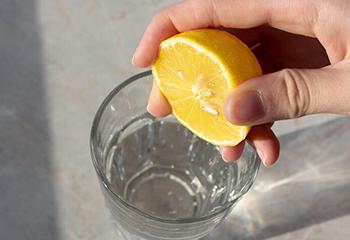 When life gives you lemons make lemonade. Or make a remedy for sore throats. Lemons have long been used to help with sore scratchy throats caused by colds or the flu.
Mix a teaspoon of lemon juice into warm water and drink it. You can add honey to taste.
6. Chili
Chilis, like cayenne, are used in Mexican and Indian food to turn up the heat but you can use them to make a healing salve for sore muscles.
Cayenne Salve
Infuse chilis into a carrier oil like sesame or sweet almond oil.
Place the chilis in a jar and cover with oil.
Either leave the jar in a sunny window for a month or you can heat the oil slowly by placing it in a pot of water on the stove for several hours.
Strain the infused oil through a cheesecloth to remove the chilis.
Store your infused oil in a jar in a cool, dark place.
To make a salve mix your infused carrier oil with a harder butter, like cacao or shea butter, and beeswax.
Melt equal parts butter, beeswax, and oil together in a double boiler to combine.
Pour the melted mixture into a glass jar and allow it to cool.
Apply it directly to your aching muscles for immediate relief.
7. Rosemary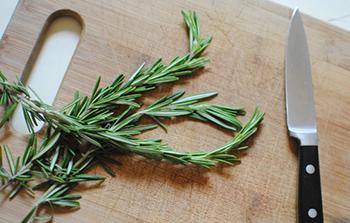 Rosemary is a common culinary herb used to flavor potatoes and chicken. Did you know it makes a delicious medicinal tea as well?
It is anti-inflammatory, high in antioxidants, and antimicrobial. Long associated with aiding memory, rosemary also can help reduce anxiety and elevate your mood.
Rosemary Tea
Simply add two teaspoons of rosemary leaves to 8 ounces of hot water. Allow to steep 5 minutes and strain out the leaves. Enjoy.
8. Mint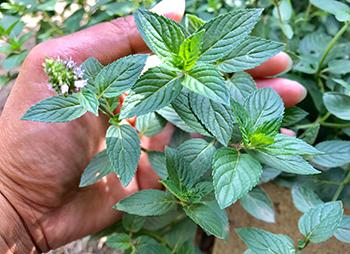 Mint is my favorite kitchen remedy. I always keep it on hand to brighten up drinks and to freshen my breath. I love having a small plant growing in my kitchen that I can use to pluck a few leaves for tea or to add to lemonade. It makes a great addition to medicinal teas that don't taste so great.
But mint can stand alone medicinally as well. It is great to relieve upset stomachs, headaches, and to calm anxiety. It contains menthol, which can help you breathe better when you have a cold and ease muscle pain when applied directly to the skin.
Whether you drink it in tea, or simply breathe in the scented mint can serve as a mood elevator.
9. Basil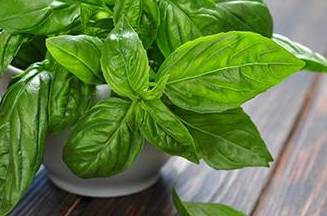 Basil is an herb that is easy to grow and commonly found in most kitchens.
While there are many delicious ways to cook with basil don't discount the medicinal properties of this herb. Basil is antioxidant, anti-inflammatory, antibacterial, and antimicrobial, all of which make basil a good herb to have on hand.
Fresh leaves can be applied to insect bites to help with the sting, and tea is good for an upset stomach or to help calm a cough from a cold.
10. Oregano
Another easy-to-grow culinary staple is oregano. You may be surprised to find all the medicinal uses for this common pizza season. Oregano can calm an upset stomach, relieve a headache, and soothing aching muscles. Just like the other herbs, you can easily use it to brew tea to cure many of your woes.
While you can use each of the herbs and spices alone as an effective remedy there are many ways to combine them together to make more potent medicines.
Once you open your eyes to using your food as medicine, you will find there are many more herbs and spices in your kitchen that can be used to heal yourself.
BY RACHAEL BLASBALG; The Lost Herbs (www.thelostherbs.com)
Being a Meniere's disease patient, these tips are very welcome. Read on for more information:
Vertigo can be a life-changing condition. Many people experience vertigo occasionally but if you suffer from chronic vertigo you never know when the world around you will suddenly begin to spin. Dizziness isn't the only symptom that vertigo sufferers experience. Vertigo can also be associated with headaches, nausea, and anxiety.
Because vertigo can strike at any moment you should avoid dangerous activities like driving a car until the condition is under control. While there are many causes of vertigo, one of the most common is BPPV or benign positional paroxysmal vertigo. BPPV is caused by a displacement of calcium crystals, called canaliths, in the ear canal. When these crystals are displaced they affect your sense of balance causing you to experience vertigo.
Migraines and other inner ear problems like infections can also cause vertigo. If you experience vertigo don't despair. There are many natural remedies that can help you overcome this condition.
1. Ginkgo Biloba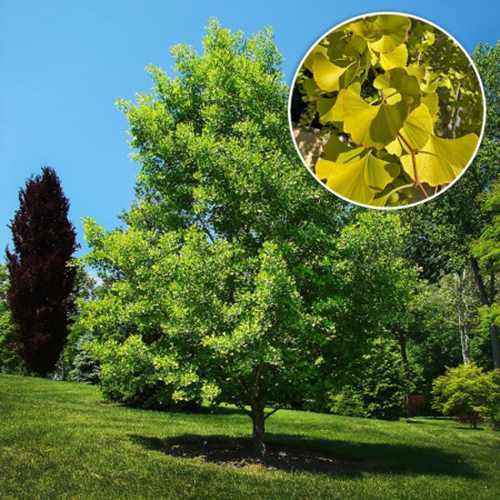 Studies have shown that Ginkgo Biloba is effective at treating vertigo. Ginkgo is associated with Chinese medicine but the tree can be found growing throughout the United States. A large tree that can grow to over one hundred feet tall it grows well in direct sun. It is a common ornamental tree in cities as it thrives in disturbed land. The leaves have a distinctive fan shape and change to a beautiful yellow in fall.
You can harvest the Ginkgo leaves when they turn yellow in the fall to make a tincture to treat your vertigo or purchase Ginkgo in capsules. You can make a tincture easily in your own home with materials you likely have already.
Ginkgo Biloba Tincture
3-4 ounces of ginkgo leaves (you can use dried leaves as well)
Vodka (or other alcohol at least 80 proof)
Mason jar
Coffee filter
Funnel
Tinted bottles for storage
Related: How Long Do Dried Herbs, Ointments, Syrups and Tinctures Last?
Steps:
First, crush the leaves to increase the surface area
Place the crushed leaves in the mason jar
Cover the leaves with vodka to a minimum of two fingers above the top of the roots. If you are using dry leaves add more vodka as the material will absorb the liquid. Do not exceed double the height of leaves or your tincture will not be as strong.
Seal the jar and leave in a cool dark place for at least two weeks
When your tincture is ready place a coffee filter inside a funnel and strain the liquid into a tinted bottle for storage.
Store in a cool dark place
Use a little as a few drops to start and no more than a teaspoon daily.
2. Blessed Thistle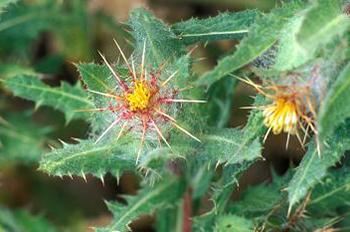 Blessed thistle, Cnicus benedictus, is a plant native to the Mediterranean region that is now commonly found growing in North America. A member of the thistle family, it can grow to two feet tall and produces yellow flowers surrounded by small spines. It has been used in traditional remedies since the middle ages to treat vertigo and other conditions.
The flowers, leaves, and stems can be harvested from June until August and used to make either a tea or a tincture. To make a tincture follow the recipe for the Ginkgo Biloba but replace the Ginkgo leaves with leaves, flowers, and stems from the blessed thistle. Use just a few drops to start and don't exceed a teaspoon daily.
3. Ginger
Ginger is one of those plants that have many uses medicinal and culinary. There is evidence that shows ginger is an effective treatment for vertigo and accompanying nausea.
Ginger is excellent when it comes to increasing the circulation of your blood. If you are feeling dizzy, chew on a little fresh ginger or drink ginger tea several times a day.
You can use ginger to make a spicy tea that will help alleviate your vertigo. Use either fresh or dry ginger rhizomes to make tea.
Ginger Tea
slice the ginger finely
place 1-2 tablespoons of sliced ginger in a cup
Pour 8 ounce of boiling water over the sliced ginger
Let steep for 5-10 minutes depending on how strong you prefer
Strain
You can sweeten the tea with honey to taste.
4. Lemon Balm
Lemon balm is believed to have healing properties that help with nervousness and vertigo. This is, in part, attributed to the health effects of the balm on the circulatory and nervous systems. The latter is important because vertigo results from the constant sending of nervous signals from the ear.
Considered one of the fastest home remedies, lemon balm is effective in treating vertigo, migraines, insomnia, nervous tension, and even depression.
You can rub its leaf and take a whiff to smell the cozy subtle lemon aroma of its leaves. Lemon balm oil helps you stay calm and relaxed because it reduces stress.
Drinking the strained tea of dried lemon balm seeped in a cup of boiling water can be an almost immediate relief for vertigo attacks.
Lemon Balm Tea
Place the cup of water in a pan and boil.
Add the lemon balm to the hot water and lower the heat to let it simmer for 10 minutes.
Pass the tea through a strainer and drink daily to help alleviate the symptoms of vertigo.
You may also inhale the balm as it simmers.
Do this for about 5 minutes to allow you to regain some balance and reduce the 'off-balance' feeling.
5. Exercise
Exercise is a common way to treat vertigo and is particularly effective in treating BPPV. While there are several different exercise regimes to choose from the most common is the Epley maneuver. A series of movements designed by Dr. Epley, this maneuver is designed to return the displaced calcium crystals to where they belong. This will then relieve the feelings of dizziness and loss of balance.
To perform the Epley maneuver simply follow these steps:
For the right ear
Begin by sitting on a bed
Turn your head 45 degrees to the right
Lie back onto a pillow, keeping your head turned to the right
With your head reclined on the pillow, stay in position for 30 seconds
Next without raising your head, turn 90 degrees to the left so you end with your head positioned 45 degrees to the left
Stay in the position for 30 seconds
Now turn your head and body another 90 degrees to the left so you are facing into the bed
Stay in the position for 30 seconds
Sit up on the left side
Do the same for the left ear.
After completing the Epley Maneuver you may experience immediate relief. However, you may find you need to repeat the maneuver a few times to get the crystals to return where they belong. Once your vertigo has subsided you can stop the exercises.
Get Plenty Of Sleep And Stay Hydrated
All of us suffer from bouts of insomnia from one time or another. As a vertigo sufferer, insomnia can exacerbate your symptoms. The longer you go without sleep the more likely you are to find yourself facing the consequences and experiencing dizziness and loss of balance.
Having a regular sleep routine can help ensure that you get enough sleep each night. Also, avoid caffeine and alcohol which can disturb your sleep patterns.
Dehydration can be another factor in triggering vertigo. While staying hydrated is always important it is even more important if you suffer from vertigo. You may have heard to drink 64 ounces of water per day but current standards now recommend that you drink between half an ounce to an ounce of water for every pound you weigh. To stay hydrated in hot weather you should make sure you are consuming on the higher-end of these guidelines. By keeping yourself hydrated you can eliminate one of the factors that can trigger bouts of vertigo.
While vertigo can be life-altering, with these simple home remedies you can begin to regain control of your life. Taking simple steps like staying hydrated and getting plenty of sleep can make a real difference. And when you are faced with an attack of vertigo, knowing exercises and herbal remedies can help you regain your equilibrium. (By RACHAEL BLASBALG)